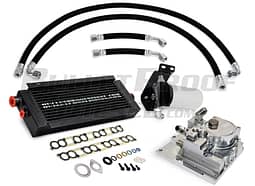 BulletProof Engine Oil Cooler
The Heavy-Duty version of the engine oil cooler is the right cooler for all 6.0L Diesel trucks that work, and work hard. This means that if you have a DRW F350, F450, or F550 – you are going to want this heavy duty option. If you have an F250 or F350 (Single Rear Wheel) and you tow heavy or often with your truck, then this is the best option for you! While removing the factory oil cooler system, you are staying away from the famous EGR/Oil Cooler Failures. The system we use utilizes the factory oil filter and fuel filter on the engine.
Bullet Proof Diesel FICM
The BulletProof FICM is an upgraded power supply for the stock Fuel Injector Control Module. It is available in a 4-Phase or 6-phase version. The BulletProof FICM also comes with an all-billet aluminum housing for improved heat dissipation and an updated look.
The 4 and 6 phase versions of the BulletProof FICM power supply feature a much thicker, vibration-resistant printed circuit board, military-grade electrical components, a full board heat-sink and strong circuit board construction. While the 4-phase version is a greatly improved upgrade of the 4-phase OEM power supply
We recommend the 6-phase version of the BulletProof FICM features two additional circuits that share the workload with the other four. The improved circuitry and upgraded components – combined with the additional circuits – means this power supply is worthy of the name Bullet Proof Diesel.
NOTE: There are two versions of the FCIM from Ford, 4 pin or 7 pin.
The FCIM's can be used in any 6.0L so before we order parts we have to figure out if it is a 4 or 7 pin FCIM. This comes FREE of Charge if the part is ordered through B & C Auto Repair!
The 6-Phase version of the board has user selectable settings to increase the voltage output to either 53 or 58 volts, up from the standard 48 volts.
The BulletProof FICM does NOT need to be programmed because this product is JUST the power supply portion of the FCIM, not the entire FCIM.s The entire FCIM consists of two parts: The logic board and the power supply. The logic board seldom fails and it is the part with the programming on-board.
Email Cory for more information. Services:
Diesel Specialists
Brakes & Brake Repair
Oil Changes
Tires & Tire Repair
Mufflers & Exhaust
Check Engine Light
Belts & Hoses
And Much More...
See All Services